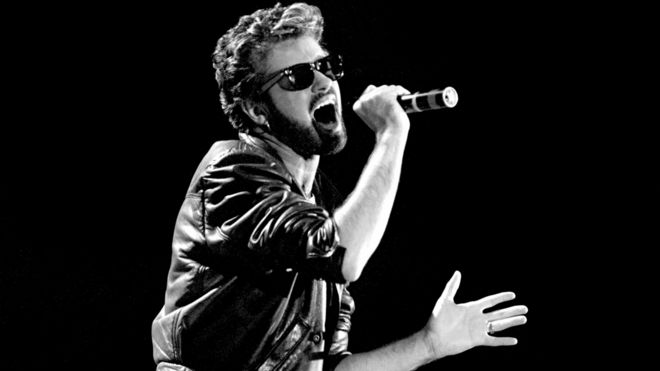 Sir Elton John
"I am in deep shock. I have lost a beloved friend – the kindest, most generous soul and a brilliant artist. My heart goes out to his family and all of his fans. @GeorgeMichael #RIP"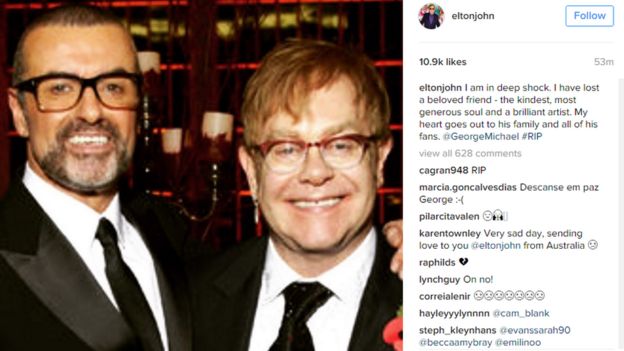 Wham! bandmate Andrew Ridgeley
"Me, his loved ones, his friends, the world of music, the world at large. 4ever loved. A xx"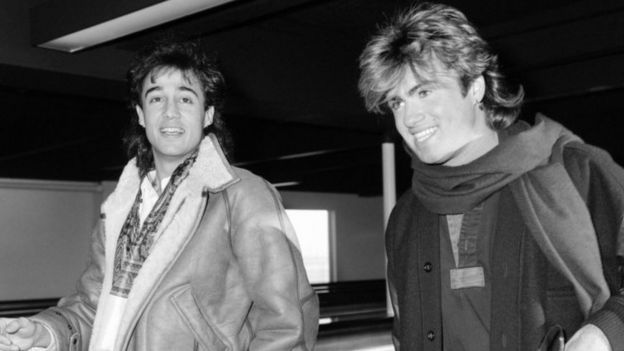 ---
Madonna
"Another Great Artist leaves us."
---
Boy George
"I am thinking of @GeorgeMichael's family, friends and fans right now.
"He was so loved and I hope he knew it because the sadness today is beyond words. Devastating.
"What a beautiful voice he had and his music will live on as a testament to his talent. I can't believe he is gone. I hope the Buddha will hold him in his arms."
---
Read more:
George Michael: A life in pictures
Have more famous people died in 2016?
James Corden
The Late Late Show host, whose regular Carpool Karaoke slot began when he did it with George Michael for Comic Relief in 2011, said: "I've loved George Michael for as long as I can remember. He was an absolute inspiration. Always ahead of his time."
Singer Paul Young, who performed on the 1984 Band Aid hit Do They Know it's Christmas? with Michael, told BBC Radio 5 live that audiences "connected" with his voice.
He spoke about the time Michael joined him on stage for a Princes Trust Concert to do a duet on Young's hit Every Time You go Away.
"He was literally straight out of the car, a quick chat on stage, no warm-ups or anything, and he just sang like a bird. Unbelievable really."
Duran Duran
"2016 – loss of another talented soul. All our love and sympathy to @GeorgeMichael's family."
---
Sam Smith
Brit and Oscar-winning singer-songwriter Sam Smith wrote: "@GeorgeMichael. Words can't express how much you and your music meant and means to me.
"Please play his music as loud as you can today & celebrate one of the most magical, talented, bravest & important figures in music & life as I know it. Your music & message will live on."
Smith added: "I would not be the artist I am if it wasn't for you."
[SOURCE:BBC]