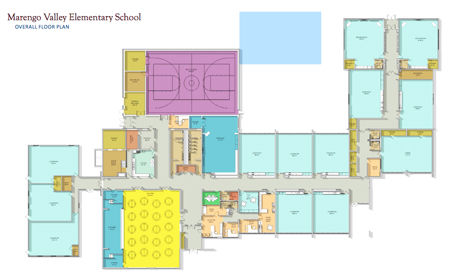 Some new and exciting things will take shape and continue to evolve in the Ashland School District this year as all of the district's schools receive updates thanks to the referendum passed last April and as the district continues to develop programs designed to help them meet their mission to "Inspire and Empower All Students to Succeed Through Innovative Learning."
"That mission statement is more than a sentence — we are really trying to embody that," said District Superintendent Dr. Keith Hilts. "I think the traditional education system is very, very effective for most kids but not all kids … We're trying to meet the needs of all kids."
Hilts asked if you could picture a perfect educational model, what it would look like?
"Frankly it would vary by student," said Hilts. "Some students really need a lot of social interaction in order to explore information and solve problems together. Other students are very comfortable learning on their own. Other students need a combination. Some students are really good with their hands … We understand that kids have different gifts."
While creating one model that meets all of those needs may seem like a daunting task, it's one that Hilts said the district is working towards.
"Now if they could be in a project-based charter school, in traditional classes, hands-on tech-based classes, online classes, then you add in all the co-curricular offerings that we have here … we're really moving in the direction where we could meet the needs of any kid," Hilts said. "Education is evolving and we're trying to be ahead of it."
The upgrades allotted at each of the district's school buildings will enable the district to provide some necessary improvements to the student's learning environments.
Hilts used a diagram featuring the floor plan of the Marengo Valley Elementary School as a prime example of spaces currently not effectively meeting the needs of the students.
"Right now this area up here is their gymnasium, it's their music classroom, it's their cafeteria and it's also where they do any performances," Hilts said, explaining that the space in reference will become a dedicated cafeteria and a performance area as a new gym will be built on the backside of the school.
"We're going to start all of the additions as soon as the frost is out," said Hilts. "All schools except for the high school should be ready by next fall."
According to Hilts, the spaces that would not be ready include the library, charter school, commons, field house and mental health spaces.
"The high school project is enormous — it's not just the field house," Hilts said. "That high school is going to look brand new on the inside and I'm just really excited for the kids and the staff."
Hilts said the construction would not impede summer school, which will be held at Lake Superior Intermediate.
"A really important part of the referendum was to modify spaces in every building to support community mental health professionals coming in to work with the kids," Hilts said. "Every office area is being renovated to make room for some professional mental health staff."
Hilts noted that the district is not paying for those individuals to come in. They are simply facilitating spaces for community health professionals to work with the kids.
"It came initially from Hazelden, which is a study that was done three years ago," he said. "The AWARE project also helped us understand the need and connected us with that mental health community."
While the district was already working with some mental health professionals, Hilts said he doesn't think many of them knew they had the opportunity to work that closely with the schools.
"We've doubled or tripled the number of professionals coming in and working with kids, and this year we opened up this referral pathway," Hilts said.
Essentially, if any faculty or staff notice a child in distress, Hilts explained that they can go onto a private website to share their concerns.
"We have a new Mental Health Coordinator whose name is Greta Blancarte," he said. "She's a live person who takes that information and meets with the child, meets with the teacher and meets with the parents … if she determines that some services might be in order. It doesn't have to be just mental health. She can help with anything, kind of more like a social worker."
Blancarte – who has a mental health background – then connects that child and the parents with the mental health provider.
"We've added about 70 students who are getting mental health help this year that weren't last year which is awesome," Hilts said.
Other important improvements coming together in time for the 2017-2018 school year include the new 4-K program, blended learning, one-to-one technology and maker spaces.
"Certainly the 4-K is a big deal for us," said Hilts.
He said that they have posted a 4-K teacher position and have the district's Director of Curriculum and Instruction Heidi Stricker working with all of the local daycares and Our Lady of the Lake to see who wants to partner.
"In addition to 4-K we're also adding a blended learning program next fall," Hilts said. "Blended learning gives students and families a lot of educational options in one program."
Students could take classes online fulltime, have face-to-face opportunities with a facilitating teacher or do a combination of online and in school classes.
"We're going one-to-one next year … every student will have their own device," Hilts said. "We're probably about two-to-one right now but part of the referendum is to make an investment in some technology, certainly the infrastructure."
The factor limiting student and staff access to the Internet right now isn't bandwidth but wireless access points. That also will be addressed.
"We will double the number of access points which will make the Internet more available for research and communication," said Hilts.
Hilts also explained that a maker space is simply a hands-on learning place, a place where kids can work with different media, different tools.
"We're going to be having a big newsletter coming out in the next couple of weeks," Hilts said. "We're going to have an open house on Feb. 8 at the high school … it'll be an evening after work thing."
To learn more about what's happening in the Ashland School District visit their website ashland.k12.wi.us
[Source:-Ashland Daily Press]