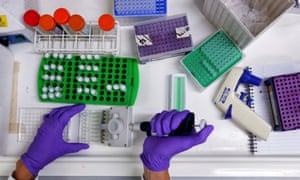 The high price of new cancer drugs is indefensible and unsustainable, say two of the world's leading cancer research institutions, who propose a different way to develop them that could sideline big pharma.
"There is a clear and urgent necessity to lower cancer drug prices to keep lifesaving drugs available and affordable to patients," say leading scientists from the Institute of Cancer Research in the UK and the University of Texas MD Anderson Cancer Center, where many important new cancer drugs have been invented, in a paper in the journal Cell.
In the US, cancer bills are the leading cause of personal bankruptcy, while in the UK, drugs that might prolong life are rejected for NHS use because of their price. Many new drugs have to be used in combination, adding to the cost. Treatment with the two new immunotherapy drugs nivolumab and ipilimumab costs $252,000, which is more than the median cost of a US home ($240,000 in 2016), they write.
Fantastic scientific work is going on – for instance, in sequencing cancer genomes – which should lead to advances in treatment, said Prof Paul Workman, chief executive of the Institute of Cancer Research in London, which is the world's most successful academic cancer drug discovery organisation. "All this invention is meaningless if patients cannot afford these drugs," he said.
"It is unsustainable. For those of us involved in research, it is disturbing that the amount of research that goes on and the success that is made is not translated into treatment for patients. And for patients it is a terrible situation."
Pharmaceutical companies used to justify their prices by pointing to the high cost of clinical trials involving many thousands of patients. But that is no longer always necessary, the scientists say in their paper. The new targeted drugs require a test for a genetic biomarker to see whether patients will respond or not. That means the drug can be trialled on far fewer people. The drug crizotinib, used for advanced lung cancer, was approved following a trial involving only 347 patients, they point out. Trastuzumab (Herceptin) was first approved for advanced breast cancer and later for early breast cancer, increasing the market for the company but with no reduction in price.
"Some drugs are tested on 50 or 100 patients and yet these drugs still go to Nice [the National Institute for Healthand Care Excellence, which decides whether the NHS can afford a new drug] at the maximum price," said Workman.
Workman, together with colleagues from the US and the Netherlands, proposes that academic discovery centres like his should forge relationships with new commercial partners – probably not the major drug companies but smaller biotech or generic drug firms.
Academics should take greater control of the drugs they discover, they argue, and join with small companies that will agree to cap the price when the drug reaches the market. They would not have the expectation of big profit margins, as the major pharmaceutical companies do. But in an era where drugs are tested on smaller populations and genetic testing means they are more likely to be effective, they would not need to "cost in" all the failed attempts at producing blockbusters, as the big companies do.
Workman said the institute was already talking to small companies about the possibility of a new way of developing more affordable cancer drugs. He believes other scientists will support the ideas in the paper. "We're calling for a more mature and open conversation about how this could be done and offering a solution," he said.
[Source:-The Guardian]