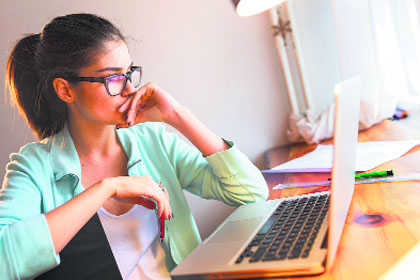 Pervin Malhotra
Q.After doing BSc, I am currently pursuing MSW from an Open University. I have been very disturbed ever since I read some news reports about distance learning programmes of several universities being de-recognised by UGC. I'm in my final year. What should I do if my degree is rendered worthless?  — Charu Yadav
A.True, some recent news articles on 'Recognition of Distance Education Programmes' by the UGC/ 'Open courses of 35 universities 'derecognised' etc that were published in the media have had many students like you worried.
But relax, the UGC has now clarified that the process of recognition of Distance Education programmes of universities that had applied for recognition for 2018-19 and onwards is still under way. It has further clarified that no open course of applicant universities has been derecognised so far.
Recognition of open and distance learning programmes is a long, multi-step process. The UGC had issued a list of approved courses and many courses that were featured earlier were missing in the new list for 2018-19.
Some professional courses offered by universities where deficiencies were identified are under scrutiny — and will be cleared pending compliance as per UGC (ODL) Regulations 2017.
Another thing to note is that the recognition or otherwise is programme specific; not university specific.
From time to time, do check updates and list of recognised distance learning courses offered by Higher Education Institutes (HEIs) on the official UGC website: www.ugc.ac.in/deb/
---
Taking a second shot at NEET
Q.I'm a Class XII student (med stream). I had enrolled for coaching but dropped it midway because I could not do equal justice to the NEET preparation and my Class XII Boards. I have heard that NEET will be conducted twice a year, so can I do a crash course after my Board exams and attempt the second slot? — Jhanvi Sabharwal
A.Yes, while there was talk of NTA conducting the NEET twice-a-year (in February and May) and of taking it online, it's not likely to happen as far as undergraduate medical/dental admissions are concerned in 2019.
According to sources, the MHRD is reconsidering this decision on advice from the health ministry. So most likely the status quo will obtain. However, decision on this matter is due shortly, so let's wait and watch. As they say, let's hope for the best but be prepared for the worst!
Also, don't worry if you haven't gone for coaching. Just focus on acing your Boards for now. I know of several students who drop a year to prepare for their medical entrances in dead earnest the following year.
---
Employability in hospitality sector ?
Q.I am very keen to make a career in the hospitality after completing school. But my family is trying to dissuade me by saying that the employability is very poor in this sector and I should look at doing other academic courses. Is this true? I come from a middle class family. — Samar Handa
A.Well if we are to go by the recent statistics, the situation is quite the contrary. New data indicates that hotel management graduates are far more likely to be placed upon graduation as compared to architecture, engineering or even technology students. In the past four years, 77 per cent (8,761) of the 11,388 students who graduated from AICTE-approved  institutes of hotel management and catering technology got jobs, while only 40 per cent (20.7 lakh) engineering & technology graduates managed to find placement, while only 35 per cent (5751 out of 16,544) Architects & Town Planning graduates did. In absolute terms this is also due to the over-supply of engineering colleges and the uneven quality of output.
Dearth of qualified professionals for the growing hospitality sector as compared to the smaller pool of employable youth may be responsible for this happy turn of events. And experts feel that this trend is likely to continue.
Do discuss these findings with your family, to reassure them. Also, you are looking at this sector as a matter of choice, not default. That in itself is a big plus. Also, a bachelor's in hotel management can be followed up with a whole range of postgrad options including MBA, law, mass communication etc…. you name it!
["Source-tribuneindia"]