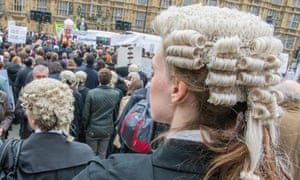 Female barristers are frequently subject to sexual harassment and discrimination but are reluctant to complain for fear it might damage their careers, research has revealed.
The Bar Standards Board (BSB), which regulates the profession and carried out the survey of more than 1,300 female barristers, is to write to every chambers in England and Wales urging them to improve compliance with equality rules.
The results emerged from an online questionnaire answered by nearly a quarter of women lawyers working at the bar; their age and ethnicity were broadly representative of the profession.
While chambers' recruitment practices were generally accepted as fair, significant problems emerged over experiences of harassment and discrimination, and how women were able to deal with problems.
Two-fifths of respondents said they had suffered harassment but only a fifth reported it. "Concern about the impact on their career was the most common reason cited by respondents for not reporting harassment," the survey found. "Half of those survey participants who did report harassment were not satisfied with the response."
Among comments recorded by female barristers were: "A male solicitor told me in exchange for favours he could give me work"; "I experienced extreme sexual harassment during pupillage from one of my pupil supervisors"; and "It was an occupational hazard that senior males might act inappropriately with young women at the bar."
There was a similar pattern for discrimination. More than two in every five respondents said they had experienced discrimination while only half that number complained. Fear that it would set back their careers was again cited as the main reason for remaining quiet.
Respondents' comments included: "A solicitor said to my clerks that he would not instruct a woman. My clerks protested. He apologised. My male colleagues refused to do the piece of work"; and "Women in my chambers are pigeon-holed into the lower paid, publicly funded 'care' work. They are seen by the clerks as the secondary earners in their families, even though this is often not the case."
Awareness of maternity/parental leave policies was said to be high with most chambers complying but many women felt taking leave had a negative impact upon their practice.
The difficulties experienced by women barristers were highlighted last year by therow over an allegedly sexist comment made by a solicitor online in which he said a photograph of the human rights barrister Charlotte Proudman was "stunning". She said it epitomised a sexist culture in the legal profession.
Commenting on the survey, the BSB's director general, Dr Vanessa Davies, said: "The equality rules were intended in part to improve the retention of women at the bar but, as we know, men outnumber women by two to one and this has not changed significantly over the last six years.
"We cannot tolerate a situation where women are treated unfairly in the workplace. Lack of diversity and discriminatory working culture and practices impair the bar's ability to meet the needs of the public and could deter potentially great candidates from pursuing a career at the bar."
Chantal-Aimée Doerries QC, chair of the bar, said: "Some of the experiences documented by the BSB are historical, but there is no room for complacency. This profession, like others, continues to face challenges with harassment and discrimination.
"Although the position is changing for the better, women still account for a very small number of members of the senior judiciary, and they make up only 13% of all QCs. The judiciary and the legal profession from which it is drawn should reflect the communities they seek to serve, and that is why the Bar Council is committed to doing all it can to support women at the bar at all stages in their professional careers at the bar. We need to aim for a profession of all, and for all."
The prospects of more women moving onto high-profile positions on the bench has improved with the supreme court's announcement this week that in the coming two and a half years, six of the 12 current justices will retire.
At present only the only woman on the UK's highest court is its deputy president, Lady Hale. She has been tipped to become supreme court president when Lord Neuberger steps down in January 2018.
"In order to encourage the broadest and most diverse range of applications and achieve the most efficient process for candidates and the independent selection commission," the court said, "we propose that recruitment for these vacancies will be grouped together in joint selection exercises to take place over the next two years."