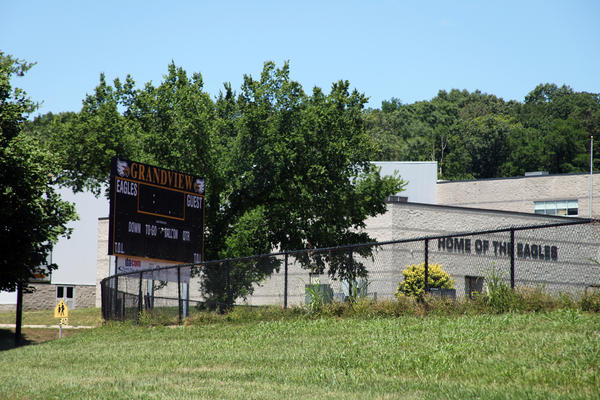 This story is part of the special series United And Divided, which explores the links and rifts between rural and urban America.
Schools in rural school districts often don't have the budget or the teachers to offer students all of the courses they would like to take. One rural district in a Missouri county decided to offer credit for online classes in an effort to give its students the educational opportunities it can't otherwise afford.
In Jefferson County in eastern Missouri, the high school, middle school and elementary school that make up the Grandview R-II School District all occupy the same campus.
"Which is out in the middle of nowhere," says Superintendent Matt Zoph. "Literally in the woods, in a place where you can't buy a gallon of milk or a gallon of gas."
Zoph started as a social studies teacher at the high school before becoming a principal and then superintendent. Today, he oversees about 750 students and 65 teachers.
Half of the students in his district qualify for the federal free and reduced lunch program, Zoph says. Enrollment is down, budgets are tight and he has trouble attracting and retaining teachers.
"We're the lowest paid school district (in the county) minus one K-8 district ," he says. "So, I'm asking my teachers to do a lot more on a lot less."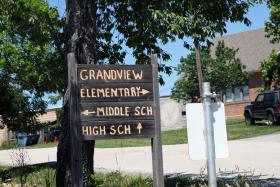 That means he may not have enough teachers for every course. Take physics, for example, a class many assume to be available in high school.
"I may have two or three kids, because we're such a small school, that are interested in taking a physics course," he says, "so to offer physics on campus would be tough."
The costs for lab equipment and textbooks, and the limited number of qualified teachers in town make it challenging to offer a physics course.
"But I can take those two or three kids, put them in a study hall, assign them physics and they can take it online," Zoph says.
The Grandview district teamed up with a private company in 2014 to launch a virtual public summer school for its rural students. Its goal: give students course options they don't normally see during regular registration. About 200 students enrolled the first year. Today, similar programs exist in Colorado and Iowa.
The online courses count toward graduation, just like any other, and this summer, more than 1,300 students are enrolled. Now, students in rural districts across the state use the system.
Courses include French 2, Archaeology and Advanced Placement Calculus. Students can log in, complete their required lessons and interact with their teachers — all online. Some students work on the course from home. Others without internet can take their courses in the library.
"We almost double every year enrollment-wise," says Elaine Schlett, a librarian in the district who helps coordinate Missouri's virtual summer school program. "I mean we get them from way down in Walnut Grove, to Eminence, to anywhere in the state — little rural towns you don't hear of very often. It's like 'that's a new one this year.'"
[Source"cnbc"]