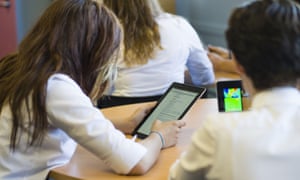 Home Office officials requested information from the national pupil database on nearly 2,500 children for immigration enforcement over 15 months, it has emerged.
Peers are expected to challenge the collection, undertaken for the first time this year as part of the schools census, in a Lords debate on Monday, after Liberal Democrat education spokesman Michael Storey tabled a motion of regret over the policy.
Human rights groups have urged parents to boycott the questions, amid fears that they would turn teachers into de facto border guards. Answers were not compulsory, but it emerged that schools had been misinterpreting the guidance by demanding pupils' passport numbers and specifically targeting non-white children.
The latest revelation on the scale of NPD data requests made by the Home Office, which has previously admitted it used the information for immigration enforcement, came in response to a question from Caroline Lucas, co-leader of the Green party.
The schools minister, Nick Gibb, told Lucas the Home Office requested NPD data on 25 occasions between July 2015 and September 2016, two of which were later withdrawn. "During this 15-month period, requests relating to a total of 2,462 individuals have been made by the Home Office to DfE and 520 records have been identified within DfE data and returned to the Home Office," Gibb said.
The DfE was not immediately able to clarify how many individuals were identified in each record. The portion of Gibb's answer that related to police requests was clearer on the point: data on 21 pupils had been shared with forces after 31 access requests, he said.
A DfE spokesperson later said: "Without evidence and data, we cannot have a clear picture of how the school system is working. We take privacy extremely seriously and access to sensitive data is strictly controlled."
Officials have been at pains to stress that the nationality and country of birth data would not be shared with the Home Office, insisting that an interdepartmental agreement explicitly forbade it. However, the DfE has so far refused to reveal details of the agreement.
In a bid to address privacy concerns, the school system minister, John Nash, said in a letter to peers, seen by Schools Week, the new data would be held separately from the national pupil database, and claimed this would prevent other departments from accessing it.
But Jen Persson, of defenddigitalme, who has campaigned strongly for an end to the collection, said the move did not constitute a victory for campaigners. "Lord Nash only rightly confirms the fact that the database is not safe for the intensely sensitive data they already hold on 20 million people," she said. "The DfE have already given and continue to give out children's home address collected in school census data. The Home Office has asked for nearly 2,500 people's data since July 2015 alone.
"What else is it used for that we don't yet know? It doesn't matter what the DfE call where they store it; it's what they do with it that matters and what they are doing is shocking, without any intention of being publicly transparent or accountable."
Bella Sankey, director of policy for Liberty, said: "The government is starting to face a serious backlash against its poisonous 'hostile environment' policies. First ministers had to pull their misguided plans for foreign worker lists – now their creation of a foreign national children list could be thwarted too.
"In recent months we have seen migrant communities vilified and treated as bargaining chips. Instead of sowing yet more division and mistrust, we urge the Lords to uphold the safety and dignity of children and send a message to government that this divisive and unnecessary policy must scrapped."
[Source:-The Guardian]