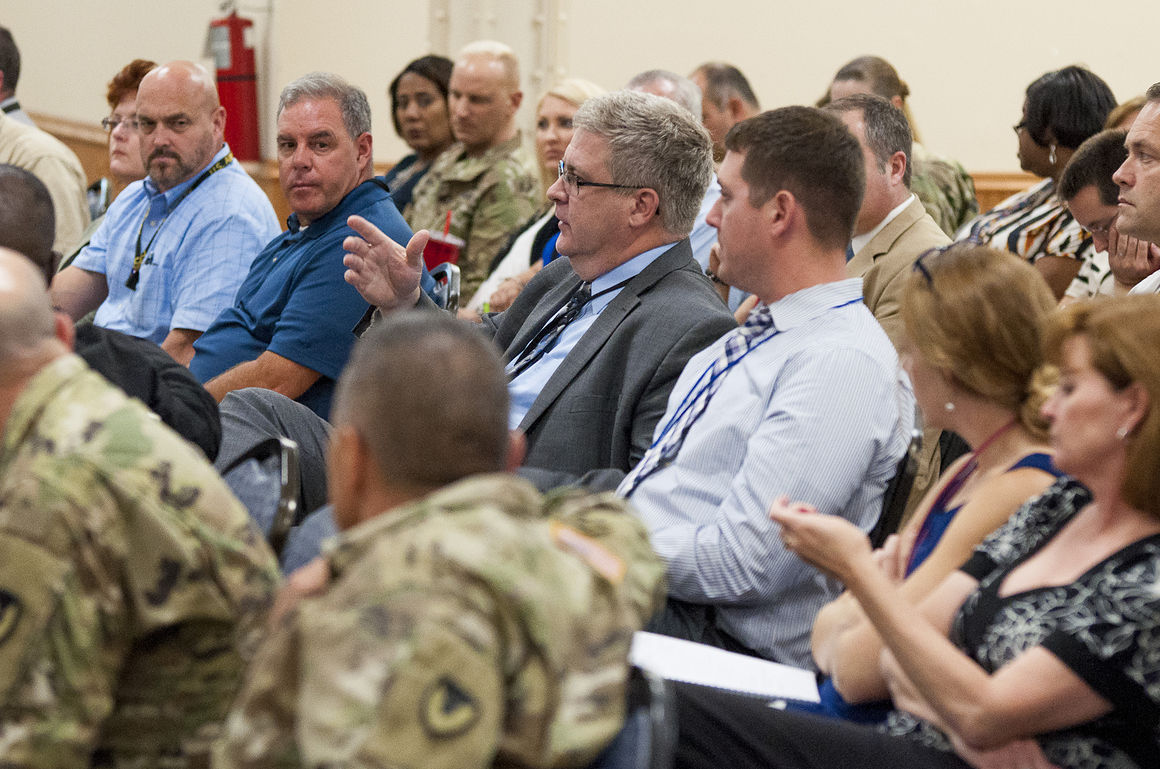 ROCK ISLAND ARSENAL — A team of logistics professional development program managers spoke with approximately 120 Army personnel about civilian career development during the U.S. Army Sustainment Command's senior and mid-level Commanding General's Leadership Professional Development training in Heritage Hall on Oct. 17.
Every job in the Army is categorized within one of 31 career programs. Each career program has its own professional development management system, which career program managers oversee and develop.
Program managers set career expectations, educate those within their respective career fields about these expectations, and serve as proponents for their career fields within the Army.
James Breeding, manager of the Career Professional Development Office, Civilian Logistics Career Management Office, U.S. Army Combined Arms Support Command, said it is important for personnel to know what professional development resources are available and what milestones they need to reach to advance. He also said it is important for managers to understand their staff.
"Understanding your workforce, understanding those individuals that you manage day-to-day, is imperative to planning workforce development," said Mr. Breeding.
Mr. Breeding oversees the management systems for career programs related to logistics and material management. He is a program manager for supply management, materiel maintenance management and transportation and distribution management.
Jeff Garland, program manager, Transportation and Distribution Management, Civilian Logistics Career Management Office, CASCOM, spoke about the different programs the Army has for supporting the civilian workforce.
"For just career programs 13, 17 and 24, we have about a million and a half dollars that we get annually for you, for your development, and for the development of the workforce," said Mr. Garland.
Mr. Garland discussed several programs he said he hopes more people will use, including the Department of the Army Logistics Intern program, the Enterprise Talent Management programs, the Defense Civilian Emerging Enterprise Leader program, and other training opportunities that can be accessed through GoArmyEd.com.
Mr. Garland said that program funding could also assist civilians with paying for college degrees. He said employees should have completed the Civilian Education System courses associated with their pay grades before applying for career program funding.
Career program managers do not manage CES courses, but CES courses are often used as prerequisites for career program opportunities.
The LPD sessions were part of the ASC commanding general's efforts to engage and promote a ready and resilient workforce, according to documents outlining command priorities. Mr. Breeding and Mr. Garland traveled from Fort Lee, Va., to support the events. Michael Hutchison, deputy to the commander, ASC, thanked the visitors and awarded them with certificates of appreciation.
[Source:-QCO]