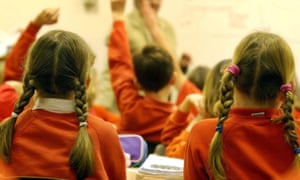 A cash-strapped primary school is asking pupils to vacuum classrooms at the end of the day because it cannot afford to replace the cleaner, while the headteacher's husband is doing the plumbing for free.
In a stark example of how the government's funding cuts are hitting schools across the country, Furzedown primary school, in the London borough of Wandsworth, has been forced to make cutbacks to try to balance the books.
It is one of thousands of schools struggling to make ends meet during the funding crisis. Thousands of parents, teachers and governors held local events as part of a national day of action to protest against the cuts, which will see schools in England face a real-terms reduction of £3bn once inflation is taken into account.
Furzedown headteacher Monica Kitchlew-Wilson has had to ask older pupils to clean classrooms after one of the school cleaners moved jobs and there was not enough money to replace her. Her husband Dave Wilson, a trained plumber, has been drafted in to tackle odd jobs, such as replacing grease traps in the kitchen, to save money.
Parents are also contributing, replacing worn-out sports equipment and buying classroom materials.
The school's struggle to make ends meet is replicated in primaries and secondaries across England. While the absolute amount of money in the national pot for schools is at record levels, once rising pupil numbers, inflation and running costs, are factored in, schools will have to cut approximately 8% from budgets by 2020.
Many schools also fear the introduction of a new funding formula that ministers argue will be a fairer way of allocating cash. Under current plans, almost 11,000 schools stand to gain but around 9,000 will see significant budget cuts on top of those they already face.
Headteachers want the funding crisis to top the political agenda in the run-up to the general election, warning that it risks bringing the education system to its knees. Thousands of headteachers in 14 local authority areas wrote to parents this month asking them to consider funding cuts when voting.
Schools across the country are asking parents to contribute everything from paper to toilet roll. Some have requested that parents set up direct debit payments to the school or make contributions as high as £600 per family.
Kitchlew-Wilson said that as a result of a combination of cuts, she was "looking at being down by £100,000. It's a huge amount for a two-form entry primary. I've never had a minus in my life and I've been here 30 years but there are minus figures at the bottom of every column and we are looking to save money any way we can."
Five members of staff are due to leave by the beginning of the next academic year – two are moving to better funded independent schools – and will not be replaced. The school is being forced to buy fewer books and reduce IT investment, along with the amount spent on essential services for children with behavioural and learning difficulties. If the new funding formula is introduced, the future looks even bleaker.
"We will have fewer teachers to support those who need extra help," said Kitchlew-Wilson. "There will be children who need extra support who will not get it – they will get less teacher time and less quality teaching as a result of these cuts."
In a bid to save money, parents have come in to the school to paint the ceilings and do the gardening, as well as donating equipment. "We are getting boxes of stuff from Amazon that parents are buying for us but it's not right that families have to buy resources for the school. State schools should be funded by the state and that is what it's about," she said.
Treasury data shows that cash for schools has fallen from 5.9% of the nation's wealth in 2010 and is headed towards 4% in 2020, the lowest level in 60 years.
Russell Hobby, general secretary of the National Association of Head Teachers, said: "This election is a make-or-break moment. School budgets are at breaking point right now. More money for schools is absolutely vital. Whoever forms the next government needs to fund education fully and fairly."
["source-ndtv"]