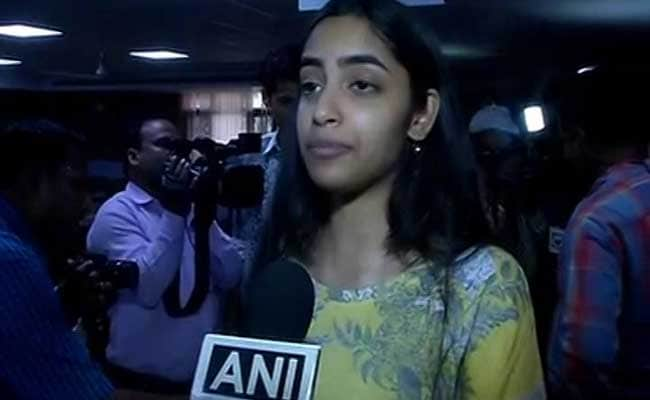 CBSE Board Class 12th Result Declared: Raksha Gopal Tops Scoring 99.6%
NEW DELHI:
HIGHLIGHTS
"Want to do political science honours," Raksha Gopal
Bhumi Sawant De scored 99.4%; Aditya Jain came third with 99.2%
CBSE today announced the class 12 results
As the Central Board of Secondary Education or CBSE announced the results for Class 12 today, there was much cheer at the home of Raksha Gopal in Delhi's suburb Noida. The Amity International School, Noida, student has topped this year's class 12 examinations with an astonishing 99.6 per cent.
"My aim was not to get the top marks but to do well. My strategy was to fully focus on my subjects. My school helped a lot along with all teachers. We were made to take many mock tests. They cleared all my doubts," said Raksha.
The topper says she wants to now study political science honours.
"I want to do political science honours. Once I am in college will decide what to do further," she said.
Bhumi Sawant De from DAV Chandigarh came a close second with 99.4 per cent, while Aditya Jain from Bhawan Vidyalaya in Chandigarh scored 99.2 per cent to take home the third spot.
The overall pass percentage, however, has dipped to 82 per cent from last year's 83.05.
Education minister Prakash Javadekar, who personally called up the three toppers, said "I congratulate all those students who have succeeded in CBSE and other board exams."
"I also call upon my students who could not succeed as the defeat is not final unless we keep trying. You should try more and get more and you will get success definitely," Mr Javadekar added.
Nearly 11 lakh students appeared in the class 12 examinations this year, of which 6.4 lakh were boys and 4.6 lakh girls. The examinations were held between March 9 to April 29.
This year, the board had been mired in a lot of controversy, due to its decision to do away with the marks moderation policy. The decision was challenged in the Delhi High Court which asked the board to follow the policy as it had been in practice when the students filled their examination form.
(With inputs from IANS)
["Source-ndtv"]