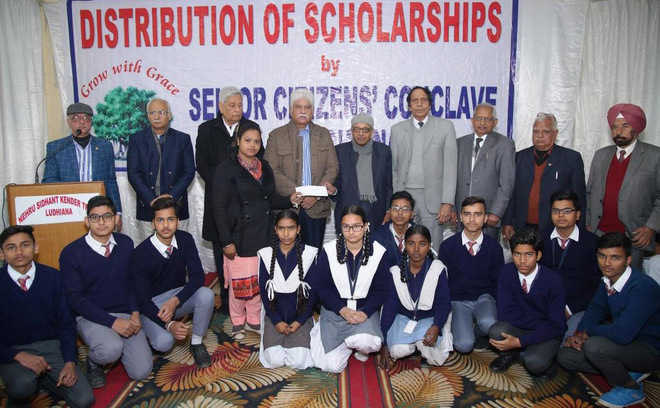 Tribune News Service
Ludhiana, January 12
Senior Citizen's Conclave distributed merit-cum-means scholarships worth Rs2.79 lakh to 100 students from 12 girls' colleges and one school on Saturday.
Rakesh Bharti Mittal, chief patron of the conclave, distributed the scholarships.
As many as 74 students of 12 women colleges of Ludhiana were awarded the SCC-Scholarship (Girls). It was started in 2006. As many as 13 students of SRS Government Polytechnic College for Girls, Rishi Nagar, Ludhiana, were given the Sat Paul Mittal Scholarship. Besides, 12 students of SDP Senior Secondary School, Hazuri Road, Ludhiana, were awarded Dr Hans Raj Scholarship, the organisers said.
Concluding the function, Mittal lauded and complimented the members of the conclave for great yeoman service being rendered for the cause of the needy girls students. He said scholarship distribution was a yearly feature with the avowed aim of serving the marginalised sections of society.
A member said the senior citizen's conclave has been actively engaged in the activities for the uplift of the poor and needy. President Lt Col (Retd) Dr DB Sharma welcomed all those present. General secretary Colonel RK Jain gave out the highlights of the scholarship scheme.
Those awarded
As many as 74 students of 12 women colleges of Ludhiana were awarded the SCC-Scholarship (Girls)
Thirteen students of SRS Government Polytechnic College for Girls, Rishi Nagar, Ludhiana, were given the Sat Paul Mittal Scholarship.
Twelve students of SDP Senior Secondary School, Hazuri Road, Ludhiana, awarded Dr Hans Raj Scholarship
["source=tribuneindia"]