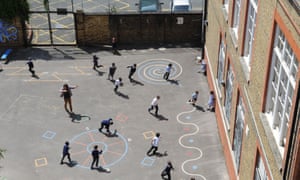 Headteachers in England have called for school funding to be at the top of the political agenda in the run-up to the general election, warning that widespread budget cuts threaten to undermine the education system.
As political campaigning gathered pace, teachers predicted that progress in education would stall and academic standards would start to decline if schools continued to come under "unacceptable levels of financial pressure".
Russell Hobby, the general secretary of the National Association of Head Teachers (NAHT) union, called on all the parties seeking to form the next government to commit to funding education "fully and fairly".
Speaking in advance of the NAHT's annual conference, which opens on Friday, Hobby said: "Cash for schools has become an agenda-setting issue in the general election campaign. The government expects schools to make £3bn of savings by 2020. These reductions put the stability of the whole education system at risk."
The education secretary, Justine Greening, was due to address headteachers at the conference in Telford, Shropshire, but pulled out after the snap election was called because of the limitations imposed by the period of purdah during campaigning.
Hobby, who will step down from his NAHT post this year, said ministers should no longer be allowed to claim that school funding was protected when the reality was that budgets had been frozen at 2010 levels, while national insurance and pension costs had gone up.
"To make ends meet, school leaders will be forced to make staff redundant, cut subjects, increase class sizes and cut back on extracurricular activity," he said. "On the steps of Downing Street, the prime minister promised a country that works for everyone. That begins with our children. If we're serious about that as a nation, we need to be prepared to pay for it."
On Wednesday, Alan Whitehead, Labour MP for Southampton Test, told the Commons that education budgets were so tight in his constituency that one primary school had drawn up a rota for parent volunteers to clean the toilets to save money.
"It underlines the desperate position schools find themselves in," he said. "We are absolutely getting to the bottom of the trough in terms of funding."
The Department for Education argues it has protected the core schools budget in real terms since 2010, with school funding at a record high at more than £40bn in 2016-17, which will rise to £42bn by 2019-20 as pupil numbers increase.
According to NAHT research, however, 66% of school leaders are reducing teaching assistants' hours to meet spending cuts and 31% are reducing staff hours; 72% say their budgets will be untenable by 2019-20 and 18% say they are in deficit.
Samantha Offord, the headteacher at Birchfields primary school in Manchester, said: "In 2015, I had to make five teachers redundant. Last year, we lost some support staff and, looking at the budget for the next five years, we are going to have to make considerable changes and restructure again.
"We have been trying to make choices based on what is going to have the least impact on the children. But it is the first time since I started teaching in 1989 that I have been involved in anything this drastic."
Graham Colclough, the business manager at Burnwood community school in Staffordshire, said: "The need to deliver a world-class education system has never been greater. Yet school budgets are at breaking point. In my own school, we are looking at a reduction of over £140,000. Even the schools that look OK at the moment, if you look at their five-year forecasts it is looking very difficult ahead."
Anne Lyons, the NAHT president-elect and headteacher at St John Fisher Catholic primary in Pinner, north London, said: "Schools in my local authority face savings of more than £18m by 2019. Without sufficient funding, music – the most wonderful experience I offer our children – will have to go. The Treasury's short-sighted attitude to national finances is unfair on the children we serve and is putting school standards in jeopardy."
Parents who are concerned about the impact of school funding cuts are also mobilising before the election to push education up the political agenda with a national day of action planned for 26 May.
The Fair Funding for All Schools campaign group is calling on politicians to protect pupil funding in real terms for the life of the next parliament through to 2022. They want the government to ensure no school loses money as a result of a new national funding formula, which has yet to be finalised.
Jo Yurkey, the group's co-founder, said: "Theresa May has failed to honour her party's previous promise to protect pupil funding, so parents will be watching very closely to see what promises are made and, more importantly, what promises are kept."

["source-theguardian"]