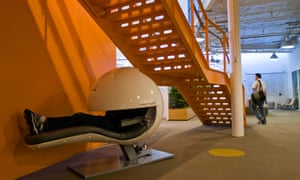 Forget office sleeping pods or snack bars – Amazon has gone a step further, building treehouses for its workers.
The treehouse meeting areas will be located in the company's new offices in Seattle. The buildings will be sited around three transparent structures Amazon has called "spheres" that will act as hi-tech greenhouses. As well as including treehouses, they will also be home to plants, suspension bridges and indoor streams.
Amazon isn't the first company to do something like this: Apple is planting 8,000 trees on its new campus in Cupertino, California. Other companies have also created innovative working spaces – the studio of Selgas Cano Architecture, for instance, is located in the woods in Madrid.
What would you most like to have where you work – a sauna or a bouncy castle? Tell us how your work environment could be improved and also share with us the item (maybe it's a cool poster or plant) or feature where you work that makes you most happy.

[source :-theguardian]