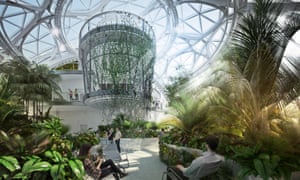 Imagine going on your lunch break – but instead of just hitting the work canteen, you wander through plants, streams and even a few treehouses.
This isn't some vision of a utopian work future, it's the reality for Amazon's employees who work for the company in Seattle.
The treehouse meeting areas are among many features (including plants, suspension bridges and indoor streams) of the new buildings, which will be laid out across three transparent, conjoined structures that the company calls spheres. The sites will act as hi-tech greenhouses for employees to use for work or pleasure.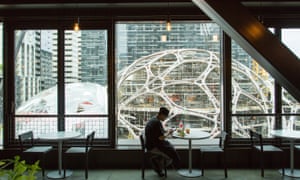 It's not the first time a company has made nature the star: Apple is planting 8,000 trees on its new campus in Cupertino, California. Other companies have also created innovative working spaces – the studio of Selgas Cano Architecture, for instance, is located in the woods in Madrid.
We asked you to tell us what makes where you work special. It might not be as fancy as sleeping pods or slides, but many places have something that makes them cool. Here is what you told us.
Florence Collins, 29, Germany: Our roof terrace is where employees put on classes and we throw BBQs
Where I work there is a large roof terrace which is used for morning yoga, eating lunch, stretching sessions, salsa classes, and parties. All the activities are arranged by employees in the different startups in the building, which is great for team spirit. The different activities also help people from different parts of the building to meet and get to know each other better. You also have a nice view of the TV tower which is close by at Alexanderplatz in Berlin.
Yoga classes take place in the morning before work twice a week – Monday and Friday. Beginner's salsa classes take place on Monday evenings and are run by an electronics engineer from one of the companies downstairs.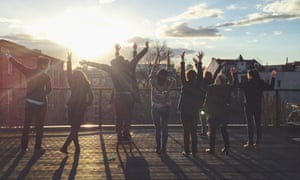 People can work on their laptops outside if the weather is mild – it's good for private meetings because it's away from the building (there is a courtyard in between). No one can hear you, but they can see your facial expressions. Also it can get really warm in summer and that means sometimes meetings start under the sun.
In summer we also have a BBQ every two weeks, and friends of employees are welcome to come too. There is a good view over the city, a nice sunset, and we have a couple of keen DJs who play music. The only challenge is making sure we don't make a mess.
Stretch time is my personal favourite activity – it came about one afternoon when I signed into Slack messenger and the motivational pop-up said "don't forget to stretch". A colleague and I made sure no one was on a phone call, put a song on full blast and stood up and got everyone to join in. Even in winter when it snows it's great to step outside and feel the cold air.
Unfortunately we don't grow anything, though it would be great to grow some tomatoes – maybe next year. There are no downsides to having a roof terrace except maybe on days when the office is full it would make more sense to have more indoor space instead, especially in winter. However, having said that, activities in the snow are still nice. The only other way my office could be improved would be with a walking desk (we have a standing one already) to counter the health risks of sitting down.
Keith Brosnan, Canada: We have indoor go-carts where I work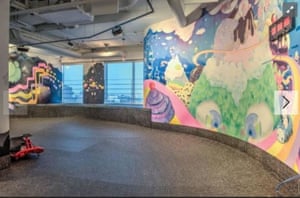 I'm not based in the office, I work remotely and just visit occasionally, but the best feature in my building is that we have indoor go-karts, which (to be honest) I don't use enough. Because I don't work there all the time I only go by what other colleagues have told me, but they say working in a stylish, deliberately fun office environment with toys like a go-kart track is a morale boost. The only drawback is that it makes it hard to contemplate working anywhere else.
Jane Smith, 35, UK: I love our standing and treadmill desks
My favourite thing at Ernst & Young's office in London Bridge is our dynamic breakout area. It has raised desks set up for standing meetings and a treadmill desk. A standing meeting has a different dynamic to sitting ones – your muscles are engaged and, because you can move freely, you can talk more openly with colleagues. Once you get used to standing meetings it's hard to go back to sitting – you feel somewhat contained in your chair. Standing meetings also tend to be quicker – it's harder to zone out and lose focus when you're standing up.
With the treadmill desks you can slowly walk while working at a desk as you normally would. You can set the treadmill to a fairly low speed and after a while you forget that you're even walking. Most people set it to about two miles per hour and walk for 20 minutes and it is really good for boosting your energy levels.
My favourite thing in our Canary Wharf office is a meeting room called The Forum, which is set up like an amphitheatre. You can sit on different levels and move around easily as there are no table and chairs. You can write on the walls or the smart board or pin up notes on the cork board. It also has AstroTurf instead of carpet, which makes it feel like you're completely outside the office environment.
Harry Lovett, 59, Brussels: We are sorted into different neighbourhoods at work, like the houses in Harry Potter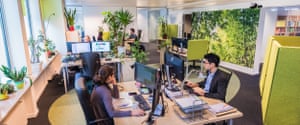 I work in a consultancy that offers legal and policy services. Our offices in Brussels are built around nine "neighbourhoods", each with its own distinct personality and name. They are called vacation, heart, Manhattan, garden, zen, etc. Every associate has a home in a neighbourhood that they are assigned randomly (a bit like the sorting hat in Harry Potter). What neighbourhood you are in basically determines where your desk is, but that doesn't mean you work on the same projects together. Associates from different neighbourhoods go to meeting rooms to collaborate and go back to their neighbourhoods to do the substantive work. People are put together randomly, so a director may sit next to an intern, for instance, and this means our associates feel part of something bigger. It's also great for collaboration, with people making friends across the company. We encourage this sense of belonging and recently had an inter-neighborhood pub quiz. One of the major drawbacks with an open-plan office, however, is that I didn't appreciate quite how many telephone interviews we actually carry out. We are now working on introducing some soundproofed phone boxes or pods.

[source :-theguardian]