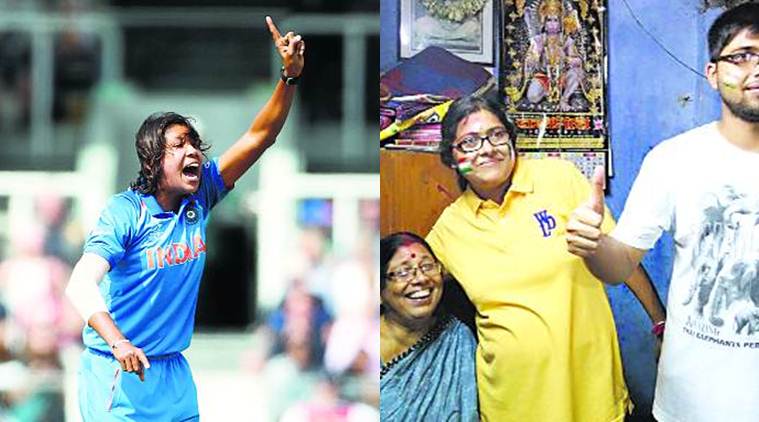 It wasn't quite Indian women's cricket's Balwinder Singh Sandhu moment, but it came close. Sandhu did it in the 1983 World Cup final, bowling a vicious delivery and knocking out Gordon Greenidge's off-stump. Just three days ago, Jhulan Goswami bowled an away-goer to Meg Lanning in the Women's World Cup semi final — arguably the ball of the tournament — that angled in and straightened after pitching, hitting the top of off. Lanning, the biggest star in women's cricket — aptly nicknamed as the Megastar — went for a duck and India had one foot in the final.
Jhulan's delivery was a knockout punch to the defending champions Australia after Harmanpreet Kaur's batting blitz had pushed them on the ropes. Cut to Lord's on Sunday, and Jhulan's second spell snuffed the life out of the England middle order.
Sarah Taylor and Natalie Sciver were in the middle of a fine 83-run fourth wicket partnership, when the Indian seamer returned for her second spell. An inswinger took out Taylor and a yorker next ball trapped Fran Wilson leg before. Another inswinger four overs later pinned a well-set Sciver in front. In the biggest match of her long international career, Jhulan had set things up nicely for her team — 3/23 in 10 overs.
"This is cricketing intelligence that comes with experience. With time, Jhulan has cut down her pace. She now bowls from a shorter run-up and bowls stump to stump. If you look at the final, only twice she offered width to the England batters to play square cuts. She is bowling straight and moving the ball beautifully, a reason for her success in this World Cup," former Bengal Ranji Trophy-winning captain Sambaran Banerjee told The Indian Express.
Banerjee has seen Jhulan's progress at close quarters. Pretty often the Indian women's team fast bowler used to drop in at Banerjee's academy at Vivekananda Park in south Kolkata from the adjacent nets of her club, Pathachakra. "She always wanted to improve and quite frequently came to our nets to train with the boys and have a bowl. It obviously helped her. But that wasn't the most significant part in her development. Far from it… Jhulan's success is all about her dedication and discipline," Banerjee observed.
Struggle toughened the 34-year-old, who hailed from a middle-class family at Chakdaha, a small town in West Bengal's Nadia district, about 65 kilometres off Kolkata. She would take an early morning train to Kolkata to learn the ropes of the game. She was only a teenager then. Then, she went to Mumbai at the turn of the century as Air India offered her a contract. Four years at the company mess and the cut-throat world of Mumbai cricket made Jhulan a fighter. "The struggle is not over yet. Jhulan has now moved to a small Dum Dum Park flat in Kolkata. She still drives a six-year-old WagonR," former Test cricketer Mithu Mukherjee, now a Bengal women's team selector, told this paper, adding: "I think Jhulan's biggest contribution to the game is the way she has inspired the girls in her state to take up cricket as a serious career option. She travelled to districts with me to bring more girls to the game."
Anxiety was hanging over the Goswami household at Chakdaha on Sunday. Things barely changed even after Jhulan's three wickets. India's win had been the priority and Jhulan's father Nishith Goswami, a former Indian Airlines employee, was too tense to talk. Kunal, the youngest member of the family, recounted his elder sister's journey amid loud cheers that every Indian boundary witnessed. "The 1997 Women's World Cup final at Eden Gardens proved to be the catalyst. Before that my sister used to play tennis ball cricket with the boys. Watching the final at Eden, she decided to become a cricketer. Early reactions from friends and relatives reeked of scepticism. They wanted Jhulan to concentrate on her studies. Our parents backed her to the hilt and so did the teachers at Bapuji Balika Vidyamandir. Jhulan would go to the Pathachakra Club in Kolkata to train under Swapan Sadhu. Her school rather encouraged her to do that," Kunal said.
After her international debut in 2002, Jhulan made steady progress. She won the ICC Women's Cricketer of the Year award in 2007. The Arjuna Award came in 2010 followed by the Padma Shri two years later. In May this year, she broke Australian fast bowler Cathryn Fitzpatrick's world record of 180 ODI wickets, dismissing South Africa's Raisibe Ntozakhe in the Women's Quadrangular tournament at Potchefstroom. Jhulan now has 195 wickets in 164 ODIs and 40 scalps from 10 Tests. She finished this World Cup with 10 wickets from nine matches at 4.14.
In 2005, when Jhulan played her first World Cup final at Centurion, India went to the game as underdogs and were hammered by Australia. At Lord's, India started as favourites, especially after their scintillating win against the Aussies in the semi final. "Play yourself in, play the full 50 overs and win the match," Jhulan had advised her team mates during the innings break. Unfortunately, the team imploded towards the back end of their chase, throwing away a very winnable game. The Bengal pacer is unlikely to play another World Cup, and there may not be a crowning glory to a career that richly deserves it.
[Source"GSmerena"]